They're Fun! They're Fast! They're Safe!
Waterfront Products Co., Inc. is now carrying Hydro-Bikes! If you enjoy the water and your environment, then you'll love the new line of Hydro-Bikes EXPLORER. These human powered water crafts are fun for the whole family! Whether its a casual ride, an intense workout, or even a friendly competitive race, the Hydro-Bike is perfect.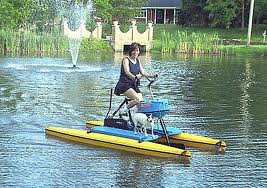 Vigorous testing has shown the Hydro-Bike to be built to last and virtually impossible to tip over!

Available in both single and double rider models, Hydro-Bikes are upright for comfort and fun, and have a computer-designed propulsion system that allows for cruising speeds of 4-6 mph, or can accelerate to up to 10 mph.

They are easy to assemble/disassemble with no additional tools required. Complete assembly/disassembly takes only approximately 5 minutes! The best part…they can be easily transported on vehicle roof racks fully assembled!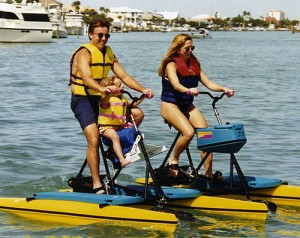 Specifications
Width (hull to hull)………………….84 in.
Width (outside)……………………..97 in.
Weight……………………………….211 lbs.
Capacity (rider & cargo)……………600 lbs.
Length……………………………….10 ft.
Height………………………………..53 in.
Gear Ratio…………………………..8.6:1
Propeller Diameter ………………..12 in.
Propeller Draft (200 lbs. rider)……18 in.
Hull Draft……………………………..9 in.
Hull……………………………………Polyethylene
Frame………………………………..17 in. Powder-Coated Aluminum
Steering………………………………2 Front Rudder
Adjustments…………………………Quick-Release Clamp